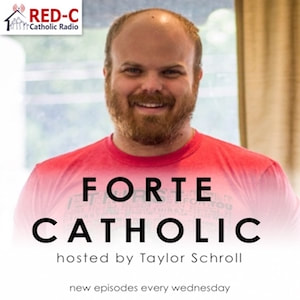 Fr. Anthony, Liv & Jon all join the show together for the first time to mark the occasion. We take some time to get to know each other and air greivances about working with Taylor. Then Taylor decides which cohost he likes the best by making them all play "Freestyle Preaching," everyone's new favorite game where the contestants have 60 seconds to preach with three random words Taylor gives them.
Finally, Fr. Anthony comes up with a segment of ranking things where we all argue best movies franchises, video games and BBQ. This couldn't have been any more fun getting the crew all together! We hope you enjoy it as much as we enjoyed making it :)
Subscribe/Rate
Never miss out on the craziness of each episode by hitting the subscribe button RIGHT NOW! Help other people find the show and #MakeCatholicismFunAgain by taking a few moments to leave a review in your podcasting app. Thanks!
Connect

Twitter: @
taylorschroll
& @
fortecatholic

Instagram: @
taylorschroll

Twitch:
Twitch.tv/fortecatholic
 
Patreon
Exclusive bonus content at
Patreon.com/ForteCatholic
. Hours of more show and a great way to help Taylor feed his three hungry children.
 
Deals'Ä®
Libertas Alive Gear
ForteCatholic.com/alive
for 15% off Taylor's current favorite Catholic shirts and outerwear! Get your own so you can finally look cool.
 
Catholic Balm Co.
ForteCatholic.com/beard
for 11% off your next order of anything you've ever need for your beard, lips or skin.
 
 
All music used on the show is by Brandon 'ÄúBeTheSymbol'ÄĚ Morel. Find his music at
bethesymbol.com
.