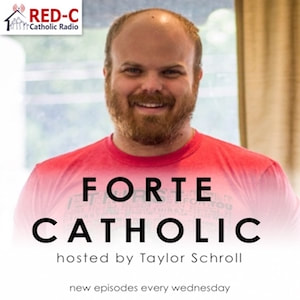 Jon Blevins cohosts AND IS NOW A GIRL DAD! The guys discuss fatherhood: the joys, difficulties and expectations vs. reality.
Then Taylor's best friend joins the fray. He's in town visiting so Taylor brought him on the show. Don't tell anyone, but he's Protestant. So we mostly ask him why he's not Catholic and he shares insight into Taylor's childhood. Really a grand ol time!
In the final segment, Jon and Taylor discuss the Super Bowl and share their respective rants on the Halftime show. Twas fun :)
Subscribe/Rate
Never miss out on the craziness of each episode by hitting the subscribe button RIGHT NOW! Help other people find the show and #MakeCatholicismFunAgain by taking a few moments to leave a review in your podcasting app. Thanks!
Patreon
Exclusive bonus content at Patreon.com/ForteCatholic. Hours of more show, access to receiving some sweet Forte Catholic swag/saint cards and a great way to help Taylor feed his three hungry children.
All music used on the show is by Brandon 'ÄúBeTheSymbol'ÄĚ Morel. Find his music at bethesymbol.com.
Episode art by Rebekah Landry.
Deals
Libertas Alive Gear
ForteCatholic.com/alive for 15% off Taylor's current favorite Catholic shirts and outerwear! Get your own so you can finally look cool.
Catholic Balm Co.
ForteCatholic.com/beard for 11% off your next order of anything you've ever need for your beard, lips or skin.
Sock Religious
ForteCatholic.com/socks for 15% off your next order of the best socks around.
Stay Close to Christ
ForteCatholic.com/gifts for a free Tiny Saint on your next order of Catholic gifts, gear, Saint Cards and much more.
catholic catholic podcast Super Bowl Halftime Show fatherhoood dad girl dad catholicism protestant christianity Christian football Superbowl