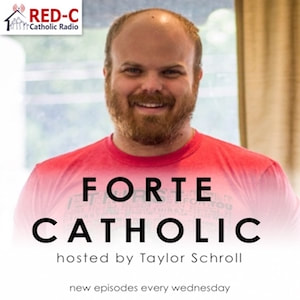 A Christmas Extravaganza Spectacular Special Edition! Taylor shares about the 2nd biggest pop culture weekend of the year(Star Wars, The Witcher, The Two Popes) w/cohost Shaun McAfee. They somehow connect it to how rough Taylor's Advent was and the beauty of Christmas with the help of two of Jesus' healing stories. O, and Shaun almost got stabbed at Church!
Matthew Sewell, the host of the PopeCast, joined Taylor for the second segment to share their thoughts on the new Netflix film, The Two Popes. Was it good? Did it bash Catholics? Tune in to the first half of the interview on this episode and find the second half of the interview on The PopeCast today! Search The PopeCast (www.thepopecast.fm) wherever you listen to podcasts.
Merry Christmas from the Schroll family & the Forte Catholic team!
All music used on the show is by Brandon 'ÄúBeTheSymbol'ÄĚ Morel. Find his music at bethesymbol.com.
Subscribe/Rate
Never miss out on the craziness of each episode by hitting the subscribe button RIGHT NOW! Help other people find the show and #MakeCatholicismFunAgain by taking a few moments to leave a review in your podcasting app. Thanks!
Patreon
Exclusive bonus content at Patreon.com/ForteCatholic. Hours of more show, access to receiving some sweet Forte Catholic swag/saint cards and a great way to help Taylor feed his three hungry children.
Deals
Libertas Alive Gear
ForteCatholic.com/alive for 15% off Taylor's current favorite Catholic shirts and outerwear! Get your own so you can finally look cool.
Catholic Balm Co.
ForteCatholic.com/beard for 11% off your next order of anything you've ever need for your beard, lips or skin.
Sock Religious
ForteCatholic.com/socks for 15% off your next order of the best socks around.
Stay Close to Christ
ForteCatholic.com/gifts for a free Tiny Saint on your next order of Catholic gifts, gear, Saint Cards and much more.
catholic podcast christian Catholic Podcast The Two Popes Pope Christmas Parables Scripture