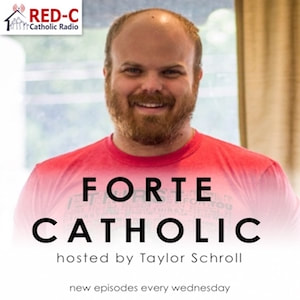 The crew returns from Thanksgiving break chubby and happy. 😊
Allison and Taylor discuss their vacations, relaxation and make fun of each other a lot. 'Tis the season!
Stacey Sumereau returns as our guest this week to discuss what finally meeting Taylor was like and what she posted a couple weeks ago that went viral and has been seen by over 17 million people! (www.staceysumereau.com)
In the final segment, Allison and Taylor share their experience of taking their respective kids to see Frozen 2. They have...thoughts...
All music used on the show is by Brandon "BeTheSymbol" Morel. Find his music at bethesymbol.com
Subscribe/Rate
Never miss out on the craziness of each episode by hitting the subscribe button RIGHT NOW! Help other people find the show and #MakeCatholicismFunAgain by taking a few moments to leave a review in your podcasting app. Thanks!
Patreon
Exclusive bonus content at Patreon.com/ForteCatholic. Hours of more show and a great way to help Taylor feed his three hungry children.
Deals
Catholic Balm Co.
ForteCatholic.com/beard for 11% off your next order of anything you've ever need for your beard, lips or skin.
Sock Religious
ForteCatholic.com/socks for 15% off your next order of the best socks around.
Stay Close to Christ
ForteCatholic.com/gifts for a free Tiny Saint on your next order of Catholic gifts, gear, Saint Cards and much more.