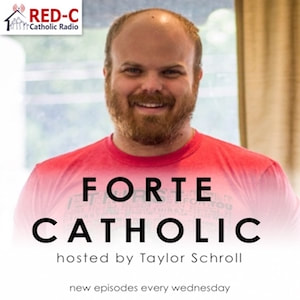 Taylor attended the ginormous National Catholic Youth Conference with over 24k people there but that doesn't even lead our show this week. What leads the show instead is co-host Fr. Anthony Sciarappa sharing the story of driving his car into a ditch and then promptly having a phone call with Taylor to clear the air in their friendship. IT. WAS. WILD!!!
We're joined this week by Dustin Bertrand to look back at his first 30 years from his recent book that Taylor definitely has a better title for.
Happy Thanksgiving from the Forte Catholic team!
All music used on the show is by Brandon 'ÄúBeTheSymbol'ÄĚ Morel. Find his music at bethesymbol.com.
Subscribe/Rate
Never miss out on the craziness of each episode by hitting the subscribe button RIGHT NOW! Help other people find the show and #MakeCatholicismFunAgain by taking a few moments to leave a review in your podcasting app. Thanks!
Patreon
Exclusive bonus content at Patreon.com/ForteCatholic. Hours of more show and a great way to help Taylor feed his three hungry children.
Deals
Catholic Balm Co.
ForteCatholic.com/beard for 11% off your next order of anything you've ever need for your beard, lips or skin.
Sock Religious
ForteCatholic.com/socks and use the code FORTE15 for 15% off your next order of the best socks around.
Stay Close to Christ
ForteCatholic.com/gifts for a free Tiny Saint on your next order of Catholic gifts, gear, Saint Cards and much more.
catholic priesthood youth ministry christian conference friendship