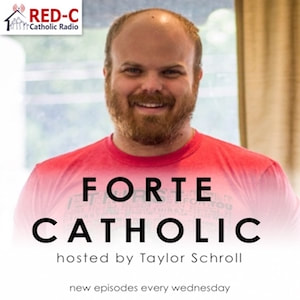 Taylor announces he's going to Rome to visit holy places...and cohost Shaun McAfee! The guys chat about why pilgrimages are a thing and the benefits they can bring.
Our guest this week is Han Solo clone, Tim Glemkowski. The guys go crazy for a bit and then get around to talking about Tim's book "Made For Mission" about parish culture. He shares what us little laypeople can do to give and receive more from our parishes.
In the final segment, Taylor begrudgingly lets Shaun plug his new book "I'm Catholic, Now What?" Believe it or not, Shaun's book is actually quite intriguing and led to a fun convo on how good or bad of a Catholic Taylor really is.
All music used on the show is by Brandon 'ÄúBeTheSymbol'ÄĚ Morel. Find his music at bethesymbol.com.
Subscribe/Rate
Never miss out on the craziness of each episode by hitting the subscribe button RIGHT NOW! Help other people find the show and #MakeCatholicismFunAgain by taking a few moments to leave a review in your podcasting app. Thanks!
Patreon
Exclusive bonus content at Patreon.com/ForteCatholic. Hours of more show and a great way to help Taylor feed his three hungry children.
Deals
Catholic Balm Co.
ForteCatholic.com/beard for 11% off your next order of anything you've ever need for your beard, lips or skin.
Sock Religious
ForteCatholic.com/socks for 15% off your next order of the best socks around.
Stay Close to Christ
ForteCatholic.com/gifts for a free Tiny Saint on your next order of Catholic gifts, gear, Saint Cards and much more.
catholic podcast christian parish church travel pilgrimage Rome Catholic Podcast