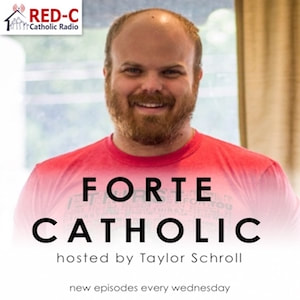 Taylor and Liv share memories from specific years in their life and how these and other memories shaped who they are and how they can help us through tough times.
Musician & Speaker Joe Melendrez joins the show to discuss baldness, moles, workaholism and more. Find out more from him at JoeMelendrez.com.
We close the show by introducing a BRAND NEW SEGMENT called Freestyle Preaching. Each host gives the other three words and they have to give a 60s sermon including those three words. We think it's hilarious but you let us know what you think :)
Connect

Twitter: @
taylorschroll
& @
fortecatholic

Instagram: @
taylorschroll

Twitch:
Twitch.tv/fortecatholic
 
Subscribe/Rate
Never miss out on the craziness of each episode by hitting the subscribe button RIGHT NOW! Help other people find the show and 
#MakeCatholicismFunAgain
 by taking a few moments to leave a review in your podcasting app. Thanks!
 
Deals'Ä®
Libertas Alive Gear
ForteCatholic.com/alive for 15% off Taylor's current favorite Catholic shirts and outerwear! Get your own so you can finally look cool.
Catholic Balm Co.
ForteCatholic.com/beard for 11% off your next order of anything you've ever need for your beard, lips or skin.
Sock Religious
ForteCatholic.com/socks for 15% off your next order of the best socks around.
All music used on the show is by Brandon 'ÄúBeTheSymbol'ÄĚ Morel. Find his music at bethesymbol.com.
Episode art by Rebekah Landry.
Special Guest: Joe Melendrez.
Sponsored By: