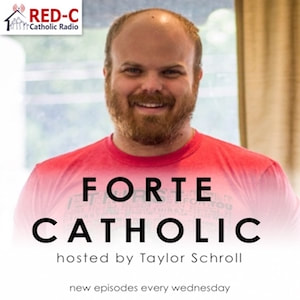 Jon "Bearded" Blevins cohosts and Taylor shares some recent reviews of the show and how he gets in trouble on the internet.
Professional counselor Kelsey Johnson joins the show in studio to chat about mental health, especially in this strange time. Taylor hasn't ever been to counseling and we all know he needs it so this was the first session ;) Book an in person or digital session with Kelsey today. (https://abidecounselingbcs.com)
Jon gets his first crack at the new "Chicken Soup for the Schroll" segment and the guys share a few heartwarming stories.
Subscribe/Rate
Never miss out on the craziness of each episode by hitting the subscribe button RIGHT NOW! Help other people find the show and #MakeCatholicismFunAgain by taking a few moments to leave a review in your podcasting app. Thanks!
Connect

Twitter: @taylorschroll & @fortecatholic

Instagram: @taylorschroll

Twitch: Twitch.tv/fortecatholic
Donate
Forte Catholic is a 501c3 non-profit organization. Support the work with a tax-deductible donation here. Thanks! https://www.fortecatholic.com/donate
Patreon
Exclusive bonus content at Patreon.com/ForteCatholic. Hours of more show and a great way to help Taylor feed his three hungry children.
Deals'Ä®
Libertas Alive Gear
ForteCatholic.com/alive for 15% off Taylor's current favorite Catholic shirts and outerwear! Get your own so you can finally look cool.
Catholic Balm Co.
ForteCatholic.com/beard for 11% off your next order of anything you've ever need for your beard, lips or skin
Sock Religious
ForteCatholic.com/socks for 15% off your next order of the best socks around.
All music used on the show is by Brandon 'ÄúBeTheSymbol'ÄĚ Morel. Find his music at bethesymbol.com.
Episode art by Rebekah Landry.
Special Guest: Kelsey Johnson.