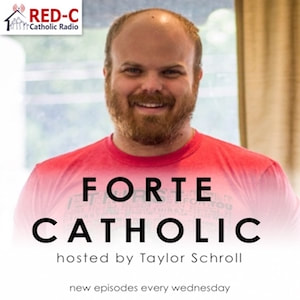 Our third annual "Limping Into Lent" involves a beat-up version of Taylor and Fr. Anthony laughing through the pain. They've both had rough weeks, Taylor loses hope and Father attempts to help.
Our guest this week is youth minister Logan Mayes. It's essentially a conversation of the classic priest, youth minister and podcaster walk into a bar and share their cringy-est stories from their time in the Church. It's a reminder that even through all the craziness, the Church is still home.
In the final segment, Taylor pokes the bear and asks Father why he won't pray with him, why he doesn't use his superpowers every day and more!
All music used on the show is by Brandon 'ÄúBeTheSymbol'ÄĚ Morel. Find his music at bethesymbol.com.
Episode art by Rebekah Landry.
Subscribe/Rate
Never miss out on the craziness of each episode by hitting the subscribe button RIGHT NOW! Help other people find the show and #MakeCatholicismFunAgain by taking a few moments to leave a review in your podcasting app. Thanks!
Patreon
Exclusive bonus content at Patreon.com/ForteCatholic. Hours of more show, access to receiving some sweet Forte Catholic swag/saint cards and a great way to help Taylor feed his three hungry children.
Deals
Libertas Alive Gear
ForteCatholic.com/alive for 15% off Taylor's current favorite Catholic shirts and outerwear! Get your own so you can finally look cool.
Catholic Balm Co.
ForteCatholic.com/beard for 11% off your next order of anything you've ever need for your beard, lips or skin.
Sock Religious
ForteCatholic.com/socks for 15% off your next order of the best socks around.
Stay Close to Christ
ForteCatholic.com/gifts for a free Tiny Saint on your next order of Catholic gifts, gear, Saint Cards and much more.
catholic catholic podcast catholicism lent prayer struggle cringe youth ministry catholic youth ministry