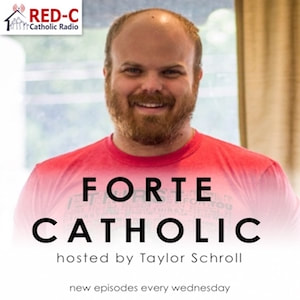 Liv Harrison co-hosts and reallllyy wanted to talk about the Golden Globes...so we did. I never thought I'd say this but Ricky Gervais may have actually taught us something.
Our guest this week is Chris Mueller. He creates wonderful content at EverydayCatholic.com but this week, we talk about the struggle his family has been going through with their 5 year old, Ben, fighting cancer. The reason I love Chris is that he is real. He shares both his trust in the Lord through the toughest times of this hardship but also is honest about the tough days. He truly shows the heart of a father.
Finally, Taylor lets Liv takeover a segment to discuss the feminine Genius and her upcoming conference. Ladies, this conference is for you. Register at geniuswomensconference.com.
Subscribe/Rate
Never miss out on the craziness of each episode by hitting the subscribe button RIGHT NOW! Help other people find the show and #MakeCatholicismFunAgain by taking a few moments to leave a review in your podcasting app. Thanks!
Patreon
Exclusive bonus content at Patreon.com/ForteCatholic. Hours of more show, access to receiving some sweet Forte Catholic swag/saint cards and a great way to help Taylor feed his three hungry children.
Deals
Libertas Alive Gear
ForteCatholic.com/alive for 15% off Taylor's current favorite Catholic shirts and outerwear! Get your own so you can finally look cool.
Catholic Balm Co.
ForteCatholic.com/beard for 11% off your next order of anything you've ever need for your beard, lips or skin.
Sock Religious
ForteCatholic.com/socks for 15% off your next order of the best socks around.
Stay Close to Christ
ForteCatholic.com/gifts for a free Tiny Saint on your next order of Catholic gifts, gear, Saint Cards and much more.
https://soundcloud.com/tags/catholic