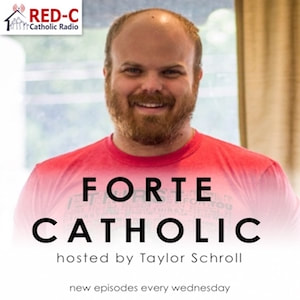 Liv & Taylor discuss a men's talk he gave recently that was written by a woman. They also discuss pretty intimately Liv's struggles this summer and then Taylor tries to sound smart for the first time in a while and mispronounces the fancy new word he learned the whole time. Fun stuff! Enjoy :)
Subscribe/Rate
Never miss out on the craziness of each episode by hitting the subscribe button RIGHT NOW! Help other people find the show and #MakeCatholicismFunAgain by taking a few moments to leave a review in your podcasting app. Thanks!
Connect
🎉Twitter: @taylorschroll & @fortecatholic
🎉Instagram: @taylorschroll
💖Twitch: Twitch.tv/fortecatholic
Donate
Forte Catholic is a 501c3 non-profit organization. Support the work with a tax-deductible donation here. Thanks! https://www.fortecatholic.com/donate
Patreon
Exclusive bonus content at Patreon.com/ForteCatholic. Hours of more show, access to receiving some sweet Forte Catholic swag/saint cards and a great way to help Taylor feed his three hungry children.
Deals
Libertas Alive Gear
ForteCatholic.com/alive for 15% off Taylor's current favorite Catholic shirts and outerwear! Get your own so you can finally look cool.
Catholic Balm Co.
ForteCatholic.com/beard for 11% off your next order of anything you've ever need for your beard, lips or skin.
Sock Religious
ForteCatholic.com/socks for 15% off your next order of the best socks around.
All music used on the show is by Brandon "BeTheSymbol" Morel. Find his music at bethesymbol.com.
Episode art by Rebekah Landry.